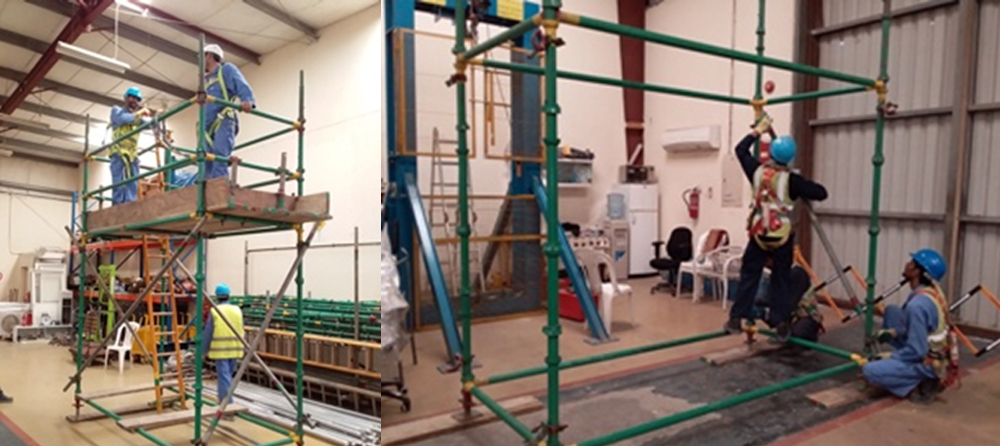 Scaffolding Training Dubai, UAE
Mobile Scaffold
Frame Scaffold
Cup lock System scaffold
Wedge Lock scaffold
Formwork / Falsework
Tube & Clamp System Scaffold
The Gulf Test is accredited by EIAC for Scaffolding (Fixed, Mobile and Falsework) Inspection.
Gulf Test Scaffolding Training Facility
Gulf Test is approved by EHS TRAKHEES for Scaffold Erector & Dismantling & Scaffold Inspector training Gulf Test Safety Consultancies is an approved ATI (Accredited training Center) of SAIA, USA
The Gulf Test believes in creating a safe work environment for those who work at some height. Scaffold towers are very reliable, but their components must be inspected for any damage. The manufacturers manual must be followed during assembling. After undergoing scaffolding training Dubai, it becomes easy to prevent serious injuries.
Who should attend the scaffolding training UAE?
Everyone must take proper care about safety. Those who work at a great height must undergo specialized training. The operatives must be thoroughly trained to create safe systems. Workers who are part of the risk occupation in the construction business must attend scaffolding training. The scaffolding should be timely tested and maintained to determine whether or not the structural integrity is maintained. It is a legal requirement that every scaffolding must be inspected, erected and inspected by competent persons.
Feel free to contact us if you are looking for scaffolding training Dubai