EIAC APPROVAL -Gulf Test Safety Consultancies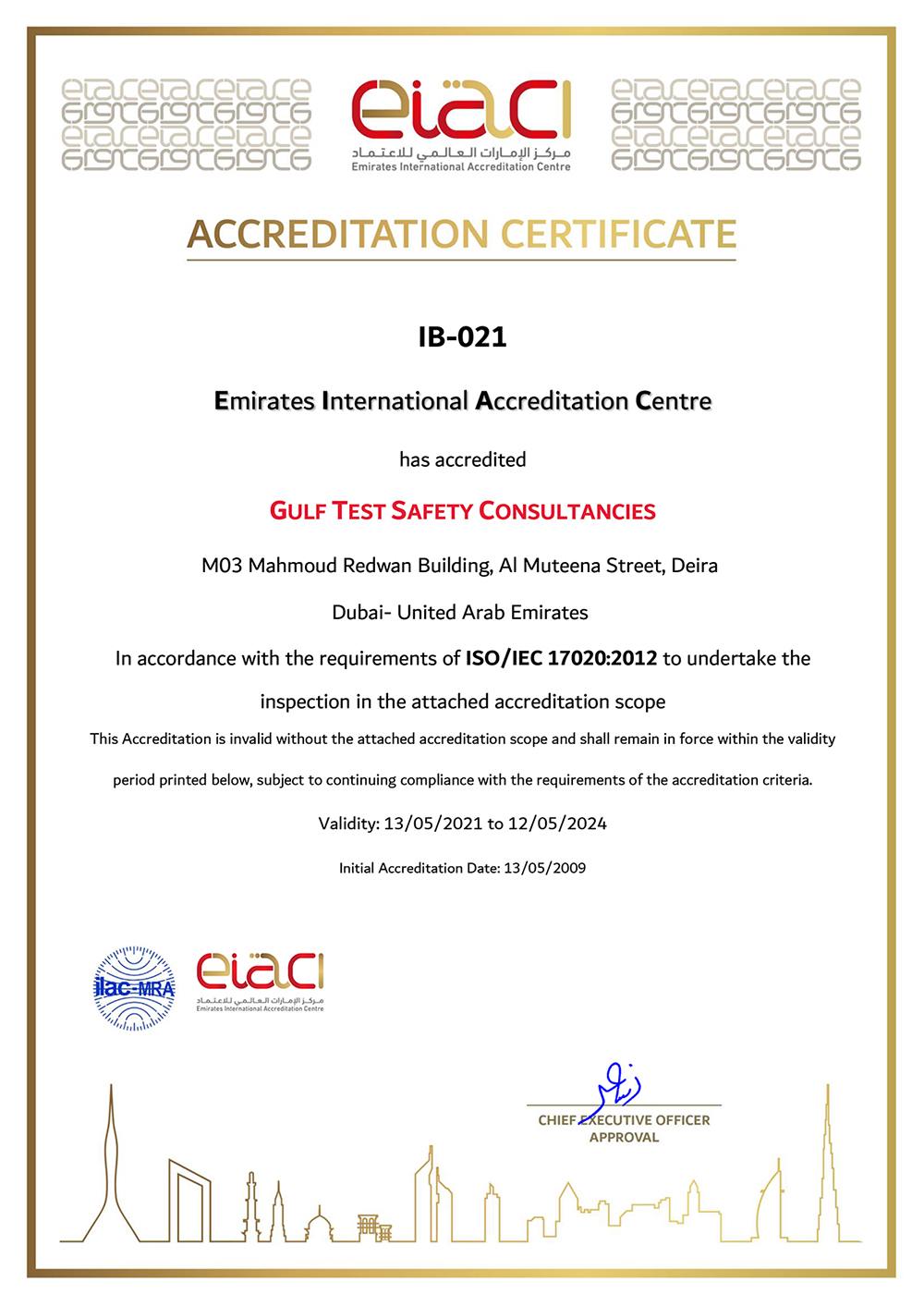 EIAC approved thermography inspection
EIAC stands for Emirates International Accreditation Centre. It is the governmental accreditation body located in Dubai. It is known for granting accreditation to global conformity assessment bodies that include calibration, inspection, testing, and certification of management systems while complying with international standards.
All of us know that mechanical and electrical systems can develop problems all of a sudden, without any warning. It is often seen that equipment is allowed to operate until some serious problem occurs, or there is a serious need for repairs. Obviously, a lot of money is required during serious repairs. With the help of EIAC approved thermography inspection, it is possible to protect the equipment from serious damage.
The thermography inspection
In the process of Electrical thermography inspection, the electrical and mechanical equipment are inspected by obtaining heat distribution pictures. The inspection method is based on the assumption that several components of a system show an increase in temperature when there is some problem, or they are malfunctioning. This process helps to analyze the electrical faults such as the overloaded circuits and loose connections.
Let us learn more about the benefit of the Electrical Thermography Inspection:
This inspection method makes it possible to conduct thermal imaging surveys without any extensive tampering
Other methods are costly, and they could also lead to unscheduled plant shutdowns as well as catastrophic equipment failures
Typical visual examinations methods are very tedious, but this method is far more effective
The infrared camera system identifies such areas that are abnormally cold or hot
This inspection method reduces unscheduled downtime
The thermography inspection method promotes safety by early detection of electrical problems. Hazards that are triggered by faulty wiring and overloaded circuits can be timely identified
Such problems are easily identified and detected that require immediate repairs. The timely fixing of issues increase equipment life and productivity
When the electrical problems are fixed in an optimal manner, the production and other activities can be carried out normally. Thus, the business gets a big boost
Far more superior in comparison to normal manual inspections
Infrared thermography does not interest with other procedures
Let us learn how EIAC approved thermography inspection is carried ou
The infrared instruments easily identify the abnormalities of the current-carrying conductor. With the passage of time, the connections become loose. It could be because of cycling temperature variations, loading fluctuation, vibration that appears due to electrical equipment operation and various other factors. Higher resistance appears in the connections that have problems. The infrared instruments tracks the level of heat.
A specialized thermal imaging camera is used in the process of EIAC approved thermography inspection. The camera can be easily pointed to electrical circuits, panels, arrangement of wires, etc. The screen of the equipment will share all data and the hot spots can be easily noticed. It is easy to identify such spots where the temperature is higher than others. Loose connections, load imbalance and corrosion are resistant to the flow of electrons. Hence, the circuits and connections often get hot. You are paying for this energy, but it is generating more value. Hence, you must take the necessary steps.
If you are searching for the EIAC approved thermography inspection service, consider approaching gulf test safety consultancies. Call us to learn more about this inspection method.