Major Inspection of Mobile Cranes as per the standards to assess the suitability of the Equipment for continued safe operation. The inspection will be conducted in accordance with the manufacturers' recommendation and inspection standards requirement, to assess the suitability of the Equipment for continued safe operation
1.3Local Requirements
Emirates International Accreditation Centre (EIAC)
Clause 2.23 Major Inspection
Inspection, that includes visual, functional and proof load test, in accordance with the manufacturers' recommendation and inspection standards' requirement, to assess the suitability of the Equipment for continued safe operation when:
An inspection after major repair/alteration.

Cranes that have reached the end of their design life or, where this is unknown, after 25 years for the structure and 10 years for the mechanical components.

Old Equipment that are to be re-commissioned after reviewing their designs and assuring that they are in compliance with the current standard requirements.

Equipment that went through Major Repair.

Equipment that was upgraded or modified.

At Inspector's discretion.
1.2 Types of Inspection Services
Initial Installation

After Modifications

End of Design Life

In-service (Periodic)
Gulf Test is an exclusive 3rd Party Inspection Body approved by EIAC to carry out Major inspection of Overhead Crane and Mobile Crane. Major inspections should generally be undertaken when the crane, hoist or winch has reached the end of its design life. If the design life is unknown, in most cases, the major inspection of mechanical components should be undertaken after a maximum of 10 years of service, and the major inspection of the structure after no more than 25 years.
we can assist our client in carrying out Major inspection of Cranes, Evaluate the Life cycle calculations, Inspection after major repairs of Cranes, Major inspection prior to purchase of the cranes, Major inspection before start using the second hand and used cranes, Assess the condition of the cranes which are older than 10 and 25 years.
Gulf Test is approved to conduct Initial Installation (It is an Inspection after production for commissioning purpose/ before putting in to operation), In-Service Inspection (Periodic inspection) and Major Inspection (End of Design Life).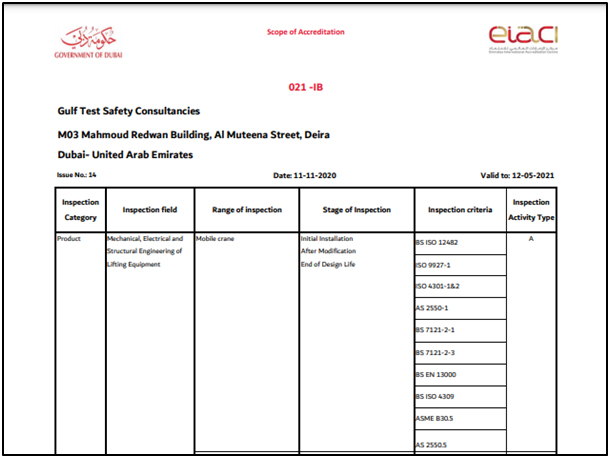 Note:Please refer our EIAC Accreditation certificate for detailed scope of Inspections
1.3 Reference Standards
Relevant BS EN, ISO, DIN, ASME and AS standards
1.4 Major Inspection shall include the following:
Design Review to the extent of the major repair and its effect on the total system

Repair Inspection

Visual Inspection

Functional Test

Proof Load Test

DWP/ Remaining Life
1.6 Major Inspection Process:
Structural Inspection

NDT on all critical structural components

Components Inspection

Electrical system thorough Inspection

Vibration analysis

Repair Inspection

Thorough visual & functional inspection

Load Test

DWP calculation

1.7 Inspection Stages

Stage 1: Thorough Visual & Functional Test

Thorough Visual Inspection

Thorough Mechanical components and structure Inspection (Hydraulic systems, Winches, cylinders, outriggers, Booms, Steel wire ropes, sheaves, Electrical systems, Hook assembly)

Detailed Visual and functional Tests

Defect identification and detailed report of items need to be replaced / repaired.

Stage2: Non-DestructiveTesting

Thorough NDT testing of all major components by level 2 NDT inspector.

Welding inspection by CSWIP certified welding inspector

Defects identification by crane specialist and NDT inspector, detailed report of items needs to be replaced/repaired.

Stage3: Repairs/Rectification of identified defect

Witnessing of repair process by welding inspector and senior crane inspector

After repair inspection by senior crane inspector and crane specialist.

Stage4: Thorough Inspection & Load Test

Thorough inspection as per the standard requirements.

Load Test

Remaining life calculation of the equipment and submission of detailed reports along with certification