OUR SERVIES
We conduct testing on more than 10,000 equipments per year in UAE alone. We have high profile clients ranging from architects, engineering firms, developers, building owners, managers, contractors and Federal and Local Government agencies. Below are our services as Elevator and Escalator consultant.
Equipment Evaluations

Acceptance test & Periodical Inspections

Construction Management

Maintenance Audits

Maintenance & Modernization Specifications

Damage Assessment

Management Services

Technical Trainings

Safety Trainings & Assessments
Construction Design, Planning and Monitoring
We will review electrical, mechanical and structural requirements and architects drawings to coordinate the core areas for the Elevator and Escalator systems. We oversees the project from inception to ensure that the work is being done in accordance to schedule, that it meets all applicable code, and that the work is being done in a proper and safe manner.
Material Inspection
Verification of components against project specifications

Verification of components against relevant standards

Completeness of delivery
Handing Over
Inspection of Mechanical & Electrical installation

Witnessing the testing & commissioning

Review on final handing over documents
Trainings
We will conduct the safety trainings for Elevator technicians in construction and maintenance. Specialized trainings will be conducted on International Standards (BS EN, ASME etc.) to Elevator engineers.
Advanced equipment for testing the Elevator & Escalators
Having all advanced and high technology equipments to measure and analyze the Elevators & Escalators are matching with the code requirements. Intelligent Elevator Inspection system (ELVI II) using for Safety Gear, Brake, Emergency brake, Buffers, ride quality, door performance, wire rope tension and balancing of the elevator with computer generated report
Special tools for Elevator Installation and Inspection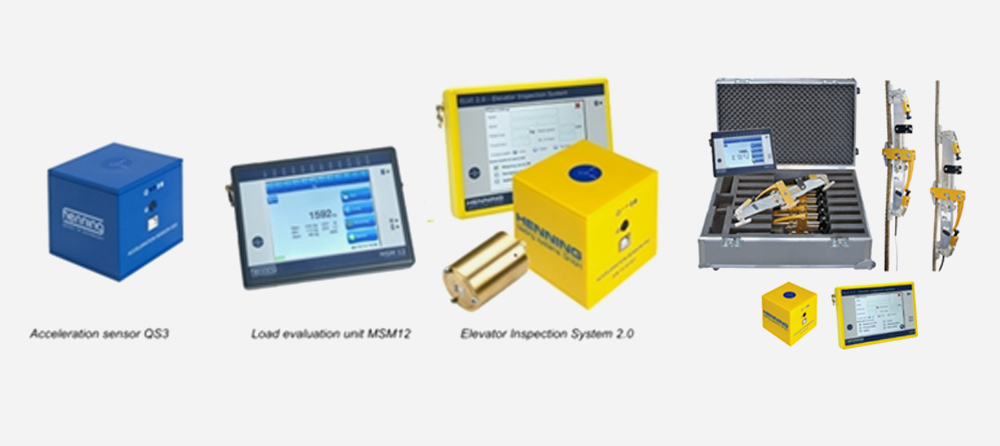 We are the representatives for M/S. Henning Germany in UAE & KSA