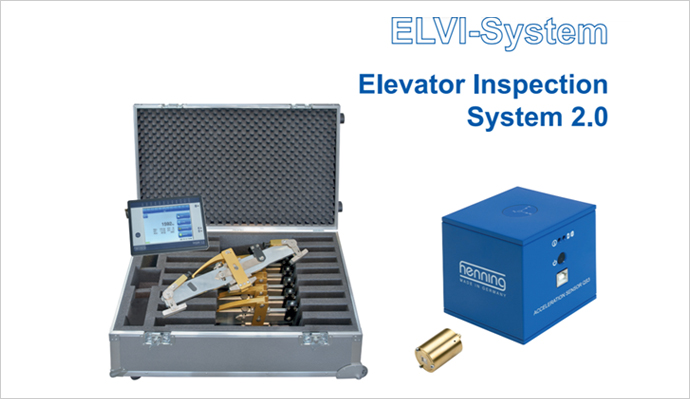 Elevator Inspection by using Henning ELVI 2.0
Elevator inspection System ELVI 2.0: The modern and quality-conscious non-destructive testing of elevators requires specialized measuring tools and methods.
The ELVI System permits the testing of the following without the use of weights or a complicated intervention in the elevator mechanics and electronics. The competent team of Gulf Test Safety Consultancies ensures that elevators are completely reliable to carry equipment and people. If you are searching for an elevator inspection in Dubai service that can help you to meet all standardized regulatory mandates, look no further than us. Our team performs different types of inspections. After involving our experts, you will get assurance that your elevators are operating safely.
Benefit of hiring our elevator inspection UAE service
Checking the condition of the elevator system through expert technical inspection
Testing the capabilities of the elevator
Attaining the highest quality and operational standards
Identifying hidden defects in the elevator system
Securing a high-level of safety to prevent accidents
In case of rope elevators:
Elevator car safeties

Half-load balancing

Traction force

Machine brake

Rope brake

Rail brake

Oil / hydraulic buffers
In case of hydraulically driven elevators:
Pressure-limiting switch

Safety value

Hand pump

Lowering prevention

Line-brake value

Throttle check value

Pipe-break safety device

Pressure resistance
Rope load measurement & car and counterweight balancing
Benefits of Using the Weight Watcher System:
Increase rope life

Reduce maintenance costs

Improve ride quality

Weigh cars and counterweights without havingto hang them
Expert evaluation and inspection is very necessary to mitigate risks and improve the level of safety. Our experts can optimize the performance of your elevators by providing tailored solutions. Gulf Test Safety Consultancies is the best name for elevator inspection in Dubai. Feel free to contact us to use your elevators without any worries.